Polaroid Camera To Be Relaunched In 2010 (PHOTOS, POLL)
[excerpt]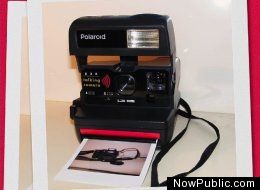 Hipsters, photo-classicists, and impatient picture-snappers everywhere rejoice: Polaroid Cameras are making a comeback.
After announcing that Polaroid cameras (and film) were being discontinued, Polapremium has announced that they are "preparing, supporting and managing the comeback of Instant Photography."
The beleaguered company seems finally to have understood the charm -- and kitsch-appeal -- of its clunky, boxy devices. Polapremium wrote in its press release,
After all the difficulties and changes of ownership during the last years, the new management of Polaroid now understands the source of the brand's attraction - which is surprisingly not based in digital cameras but in Dr. Edwin Land's groundbreaking 1948 invention of Instant Photography, which he ingeniously devised and passionately developed with a lot of care and devotion.
Polaroid cameras and film (both color and black-and-white) should go on sale in mid 2010. A new digital Polaroid will also be on the market.
Read more at: